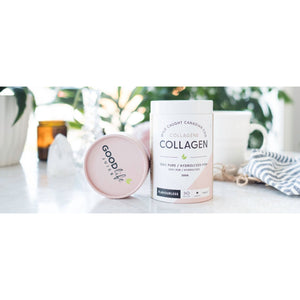 Wild Caught Canadian Cod Collagen, 200g- Refillable
100% Pure Collagen from Wild Caught Canadian Cod
Collagen Benefits:
Increased elasticity, firmness and moisture in your skin

Reduction in fine lines and wrinkles

Strengthen hair and nails

Eases knee and joint pain

Builds muscle

Boosts metabolism

Improves digestion and gut health

Improves heart health

 

3rd Party Tested, Health Canada Approved, Hydrolyzed Wild Fish Collagen you can Trust
HOW TO USE - Good Life Collagen is completely flavorless, mixing easily into your favourite liquid. Stir 1 TBSP into water, juices, smoothies or coffee. We fell in love with collagen by adding it to our cold pressed juices. Find what YOU love and stick with it.
---