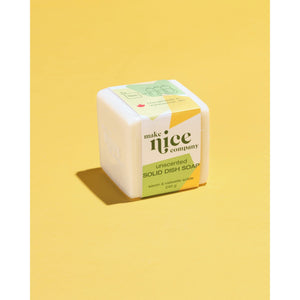 Unscented Solid Dish Soap
Made in Vancouver, BC
Solid Dish Soap is a perfect zero waste option that cuts grease while staying gentle on your hands. This powerhouse cleaner can even take stains out for your clothes or spot clean your carpet. 
Completely fragrance-free and vegan. 
Each cube replaces up to 3 bottles of liquid soap - ditch the plastic! 
Ingredients:
Saponified cocos nucifera (Coconut) oil, saponified olea europaea (olive) oil, aqua. All Solid Dish Soaps are paraben-free, SLS-free, palm oil-free and fragrance-free.
To use:
Create suds by rubbing the Solid Dish Soap with a brush or loofah. 
Wash and rinse well.
Use warm water for best results.
---