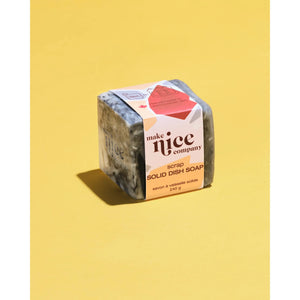 Scrap Solid Dish Soap
Made in Vancouver, BC
In our effort to be zero-waste, we created this Solid Dish Soap using soap scraps that would normally be thrown out. It's coloured using bamboo activated charcoal and works exactly the same way as any of our other Solid Dish Soaps!

Completely fragrance-free, vegan and palm oil free. Even our labels are 100% biodegradable and made with plant-based inks with FSC (Forest Stewardship Council) certified paper.

Each cube replaces up to 3 bottles of liquid soap - ditch the plastic! 
Ingredients:
Saponified cocos nucifera (Coconut) oil, saponified olea europaea (olive) oil, aqua, activated charcoal. 
This Solid Dish Soap is paraben-free, SLS-free, palm oil-free and fragrance-free.
To use:
Create suds by rubbing the Solid Dish Soap with a brush or loofah. 
Wash and rinse well.
Use warm water for best results.
---