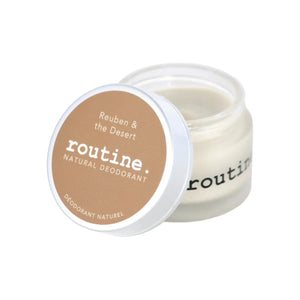 REUBEN & THE DESERT deodorant
Bowling shoes, talking blues.
Wander, ponder, roam.
Skate park tricks, guitar licks,
cover of the Rolling Stone.
SCENT:
PALO SANTO
TOBACCO
VETIVER
AMYRIS
SCENTS WITH BENEFITS:
Eliminate odour while maintaining skin's healthy balance. Doubles as your personal signature scent.
SCENT PROFILE: Musky, Smoked & Nuanced
PREDOMINANT SCENT: Amyris, Tobacco, Vetiver & Palo Santo (deep, smooth and smokey)
FORMULA: THE CLASSIC (Reduced Baking Soda, Magnesium)
ESSENTIAL OILS: Amyris, Blue Cypress, Palo Santo, Patchouli, Ginger, Vetiver, Coffee and Tobacco.
SIZE: 58g, enough for 3-6 months with regular use.
SHELF LIFE: 12 months once opened.

Read about the Reuben x Manawan project and Donate HERE.
---
We Also Recommend
---