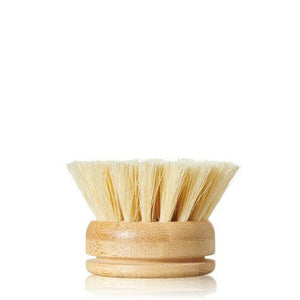 Replaceable Heads for Bamboo Dish Brush
These brushes work well for more than just dishes, pots and pans!
 🛁 Pair the Scouring Brush with sold dish soap for cleaning jobs that need a good scrub all throughout the house, including the bathroom. For cleaning jobs requiring less elbow grease, the Pot Brush works beautifully.
 🥕 Use the Pot Brush for cleaning hearty vegetables like carrots and potatoes.
 🍃 Both the Pot and Scouring Brushes have many outdoor uses. Clean up outdoor furniture, deck railings, flooring, and more! Anything that needs a good scrub, these brushes have you covered.
Good for You + Good for the Planet

The brushes are fully compostable with the exception of the metal on the Long Handled Dish Brush, which can be recycled!

 

BAMBOO: A rapidly growing, incredibly strong plant and abundant renewable resource

 

SISAL: An extremely sustainable and eco friendly plant-based resource that is strong, durable, water-resistant, long-lasting and suitable for allergy sufferers

Care + End of Life

Allow brushes to air dry between uses. Store with bristles down and avoid letting the bamboo sit in water. 

 

For a deep clean, soak the brush (bristle end down) in white vinegar for an hour or more. Rinse, shake off excess water and air dry.

 

At the end of life, these brushes are fully compostable! Crush them into smaller pieces if you'd like, then bury them in your garden or toss in your backyard compost or green bin. For the Long Handled Dish Brush, remove and recycle the small metal pieces before composting.
---