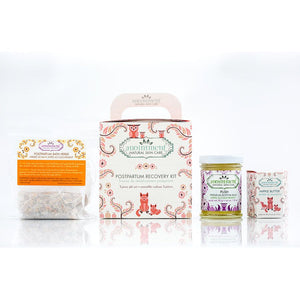 Postpartum Recovery Kit
The transition to motherhood is magical and beautiful and also incredibly challenging. Through all the exhaustion and physical recovery, you are transforming into the woman you will be from now on. This is a time of intense personal growth, of strength and stamina, and of a love even deeper than you imagined.
Information:
Anointment Postpartum Recovery Set Includes:
50 g Push Perineum/Bottom Balm to help soothe damaged tissues and reduce swelling associated with childbirth
30 g Nipple Butter for breastfeeding moms
30 g Postpartum Bath Herbs as an herbal sitz bath, conveniently packaged in single-use tea bags.
Bonus recipe for new moms inside the box!
Packaged for gift giving.
A very popular item, retailer feedback: it sells itself!
Packaging: Cardstock box. Contents packaged in glass jars/biodegradable plastic bag
Ingredients:
Nipple Butter - Olea Europaea Fruit Oil*, Butyrospermum Parkii*, Euphorbia Cerifera (Candelilla) Wax, Calendula Officinalis Flower Extract*, Althea Officinalis Root Extract*
Postpartum Bath Herbs - Sodium Chloride (sea salt/sel de mer), Avena Sativa*, Plantago Major Leaf*, Achillea Millefolium Flowers*, Calendula Officinalis Flower*, Hammelis Virginiana Leaf*
Push Perineum/Bottom Balm - Olea Europaea Fruit Oil*, Cera Alba, Achillea Millefolium Root Extract*, Althea Officinalis Root Extract*, Ruscus Aculeatus Root Extract* Hypericum Perforatum Extract Leaf*, Hamamelis Virginiana Leaf Extract*, Calendula Officinalis Flower Extract*, Tocopherol
*Certified Organic Ingredient
---
We Also Recommend
---