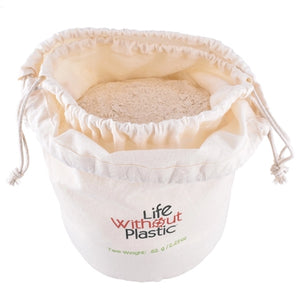 Organic Flat-Bottom Large Double Cotton Flour Bag - Large
Reusable bags are essential for plastic-free, zero-waste grocery shopping and have immense potential to reduce plastic waste. 
This bag is made from certified GOTS organic cotton and is specifically designed to hold flour or other large package free items such as confectionary sugar. It features a main bag with a draw string and also another inner bag (ever so slightly smaller to fit within the main bag) that also has a drawstring to prevent flour from seeping out. The seam of the bag is on the outside to prevent small particles of flour from accumulating inside the bag. It is easy to shake and wash in the machine as you only need to pull the inner bag outside of the larger bag.

Both bags have a double drawstring so you can pull the two ends and tie a bow to prevent your food from falling out. It is unbreakable (unlike the Mason jar) and can be folded to be extremely compact to carry.
Its "tare" weight is indicated on the bag to make it easy to deduct its weight at the refill food store.
This large sized bag is much easier to fill than a mason jar or the average bag because of its large opening and its ability to stand on its bottom! Most bags have a seam in the middle of the bottom which makes the bag fall to either side when filling it up but this Life Without Plastic bag was designed with a flat bottom to make filling easy. Simply put it on the counter and scoop your flour into the bag, it will hold itself up and not tumble over.
Additional Information
Dimensions: 
     Opening diameter: 22.86cm / 9"
     Base diameter: 20.32cm / 8"
     Bag Height: 25.4cm / 10"
     Capacity: around 27 cups / 6.4 Litres
     Tare weight: 65 g / 2.29oz
Materials: GOTS certified organic cotton
Care Instructions: Machine washable
Country of Manufacture: India
Health & Environment: BPA Free
---
We Also Recommend
---