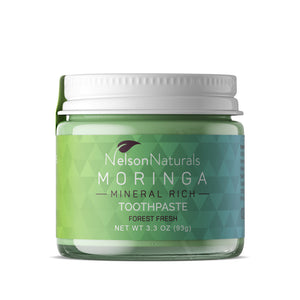 Moringa Mineral Toothpaste, Forest Fresh, 93g
 Moringa is a nutrient & mineral powerhouse. Literally the most nutrient dense plant on earth! It a super addition to your daily brushing routine.
Iodine is a member of the Halogen family (same as Fluoride) & has many amazing benefits.
Bentonite Clay is used to absorb stains and acts as a mild abrasive. Its like a detox for your mouth!
With the

 

mineral rich

 

properties of Moringa, the unique properties of Iodine combined with the detoxifying properties of Bentonite we believe this will be one of the best brushes you've ever had, In fact, we guarantee it!
Ingredients: Calcium Carbonate, Bentonite Clay, Colloidal Silver, Sea Salt, Xylitol, Castile Soap, Moringa Leaf, Trace Mineral Concentrate, Spirulina, Moringa Seed Oil, Iodine, Essential Oils of Juniper Berry, Rosemary, Peppermint, & Pine  
---
We Also Recommend
---