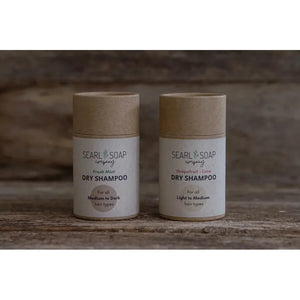 Dry Shampoo, refillable/compostable tube
This vegan and gluten free Dry Shampoo is made with completely natural ingredients and hair loving essential oils for a dreamy fresh scent. Use it between washes or as a volumizer any day! It is very versatile: apply a small amount for volume or if your hair is not very oily, or apply more if it's quite oily. 
There are two shades of this silky powder to choose from depending on your hair colour, light to medium (grapefruit lime scented) or medium to dark (fresh mint scented). Both work for all hair types! If you have red hair, the light to medium is the way to go.
The cardboard shaker tube is not only fully compostable once you're done with it, but refillable in the meantime!
The trick with powdered dry shampoo is how to apply it. If you just tip and shake it all over your hair, you'll probably end up with a powdery haze. Check out this blog post for some tips for success!
All Searl Soap products are made completely with 100% high quality natural ingredients, are paraben & phthalate free, contain no synthetic fragrance or artificial colours, no sodium lauryl sulfates (SLS), talc or toxic chemicals and come to you in zero waste packaging.
40g
---
We Also Recommend
---