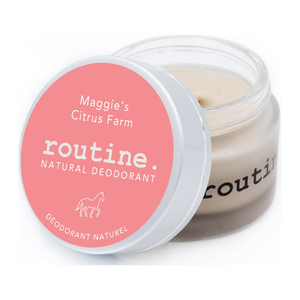 MAGGIE'S CITRUS FARM deodorant
Make margaritas when life gives you citrus.
Party in the back, in the front all business.
Dirt on your boots, makes you feel better,
record player spinning classic Dolly and Loretta
SCENT:
SWEET ORANGE
VANILLA
LEMON
FUNCTION:
Eliminate odour while maintaining skin's healthy balance. Doubles as your personal signature scent.
SCENT PROFILE: Sweet & Fruity
PREDOMINANT SCENT: Citrus (smells like an orange creamsicle, on a hot summer day)
FORMULA: THE CLASSIC (Reduced Baking Soda, Magnesium)
ESSENTIAL OILS: Bergamot, Sweet Orange, Lemon, Vanilla and Nutmeg.
FLAVOUR OILS: Lemon, Grapefruit and Citrus.
SIZE: 58g, enough for 3-6 months with regular use.
SHELF LIFE: 12 months once opened.
---
We Also Recommend
---