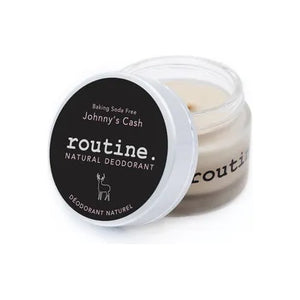 JOHNNY'S CASH, baking soda free 58G DEO JAR
Pine + cedar, smell so good,
are you going to chop more wood?
Wearing black, sing the blues,
are you getting more tattoos?
SCENT:
CEDARWOOD
PINE
BERGAMOT
PATCHOULI
FUNCTION:
Eliminate odour while maintaining skin's healthy balance. Doubles as your personal signature scent.
SCENT PROFILE: Woodsy & Fresh
PREDOMINANT SCENT: Cedarwood & Pine (woodsy and masculine with a clean finish)
FORMULA: SENSITIVE (Baking Soda Free)
ESSENTIAL OILS: Patchouli, Tea Tree, Bergamot, Pine, Cedarwood, Ylang Ylang and Vanilla.
SIZE: 58g, enough for 3-6 months with regular use.
SHELF LIFE: 12 months once opened.

WHY NO BAKING SODA? Baking soda is alkaline and for certain people, at certain times, it can throw off their pH balance, in turn causing skin sensitivity. We have replaced baking soda with dietary magnesium, a mineral that if you are not getting enough of, can make your sweat smell worse! Also, magnesium reduces stinky stress sweats by relaxing those pits! Amazing magnesium!
---
We Also Recommend
---