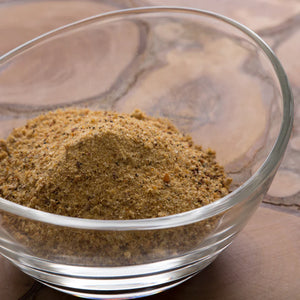 Myrrh Gum Powder- REFILL/100g Online Order
*Online refill orders: 
-Not eligible for shipping

-Will be packed and ready for pick-up within 24 hours, notification will be emailed
-Free delivery within 15km radius from 163 Kenneth, V9L1N5
-Orders will be packed in upcycled, sanitized containers unless otherwise instructed in order
Myrrh gum powder is the dried resin originating from a small tree species of the Mediterranean. It is found in many natural toothpastes to help combat periodontal disease, and in liniments and salves for minor irritations, muscle aches and sprains. Myrrh gum powder can also be infused in oil and added to creams and lotions. Additionally, this product is used commonly in incense and aromatherapy treatments as well as insect repellents.
---
We Also Recommend
---