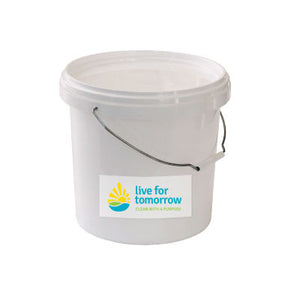 LFT Powder Laundry Detergent, Unscented- REFILL/100g Online Order
*Online refill orders: 
-Not eligible for shipping

-Will be packed and ready for pick-up within 24 hours, notification will be emailed
-Free delivery within 15km radius from 163 Kenneth, V9L1N5
-Orders will be packed in upcycled, sanitized containers unless otherwise instructed in order
Environmentally-friendly laundry detergent for daily washing. Suitable for all wash types.
Instructions for use: Sort by color. Follow garment label instructions. Use 60mL (1/4 cup) for a light load. For a normal load use 80mL (1/3 cup) and heavy soiled garments use 125mL (1/2 cup).
Not recommended for cold washes.
Ingredients: Sodium Carbonate (base), Lauryl Glucoside (cleaning agent), Borax 5 mol (water conditioner), Sodium Carbonate Peroxyhydrate (stain remover) Carboxymethycellulose (washing agent).
Warning: Keep out of reach of children. In case of eye contact, rinse thoroughly with water. If swallowed, induce vomiting and seek medical attention. For best results, use product within 6 months from date of purchase. To avoid the product clumping, avoid moisture and keep the container sealed.
---
We Also Recommend
---