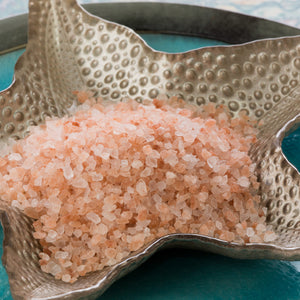 Himalayan Pink Salt- Medium Grain- REFILL/100g Online Order
*Online refill orders: 
-Not eligible for shipping

-Will be packed and ready for pick-up within 24 hours, notification will be emailed
-Free delivery within 15km radius from 163 Kenneth, V9L1N5
-Orders will be packed in upcycled, sanitized containers unless otherwise instructed in order
Carefully sourced from mines located deep within the Himalayan Mountains, the Himalayan Pink Bath Salt offered at Voyageur is known around the world for its beautiful color and varied trace minerals. Formed from the ancient seabed that was crystallized into rich salt veins within the mountains when they formed, the Himalayan pink salt offered at Voyageur is considered by many to be the purest salt on earth.


Our supplier uses proprietary technology to ensure the quality & consistency of their Himalayan Pink Salts. First, the Himalayan salt is crushed and screened to several different precise grain specifications, offering the ideal size for any bath & spa project: body scrubs, exfoliating soaps, lotions, manicure and pedicure soaks, bath salts, bath teas and salt potpourri. Following the grain sizing procedures, the salt is run through an exclusively-developed Optically Clean® process, which removes naturally-occurring impurities without refining or processing, and ensures the ultimate beauty & safety of this unique, all-natural salt. This premium quality, authentic Himalayan pink salt comes from ethically and ecologically approved, FDA-registered suppliers.
---
We Also Recommend
---